There are loads of different crochet items that you can make at Christmas, whether it's cozy gloves or a large winter scarf.
But what about when it comes to that most important tradition of Christmas day: Christmas dinner?
Well, you might think that there are few crochet items that you can add to a dinner table, but you'd be wrong! There are plenty, and crochet Christmas (see also: How To Make A Crochet Christmas Bell)napkin holders are one of the best.
With that being said, there's so many different crochet Christmas napkin holder (see also: How To Crochet A Pot Holder)patterns out there that it can be a time-consuming task just trying to narrow the list down and find the designs that you like best.
Thankfully, we've done the work for you! In our festive guide below, we've got 10 beautiful crochet Christmas napkin holder patterns for crochet inspiration(see also: 10 Beautiful Crochet Sunflower Patterns For Crochet Inspiration).
Whatever style Crhsitmas napkin holders you want, you're sure to find patterns you love in our guide. Read on!
10 Beautiful Crochet Christmas Napkin Holder Patterns For Crochet Inspiration
We're starting our list off with an especially fun crochet Christmas napkin holder, this pattern in the design of Santa's famous outfit!
As you'll see, this holder doesn't just hold napkins either, because it will hold your cutlery in it too.
The design is extremely bright and striking, making it really stand out on your dinner table. It's bright red, like Santa's outfit, but has a black belt going around the middle.
With that belt there's a large gold buckle, which simply shines. Finally, there are some bright white tassels at the top of the holder, which look almost like snow. How festive!
Next on our list is another classic image that just screams "Christmas"! This crochet pattern will give you a Christmas-themed ring napkin holder with a cute holly berries design. 
The ring around the napkins itself is a snow-white band, but then there's two big crochet leaves and three small red crochet berries attached to the front of it.
The crochet detail is intricate and impressive, with the design being immediately recognizable as this great festive image. 
Though this is called a napkin dispenser, that means it's great for holding napkins too. This crochet pattern has got an extremely festive design, with a small image of the face of Santa front and center.
He has his classic red hat, a pink rosy face, and a large white beard. He even has a bright red nose! Clearly he has something in common with Rudolph.
The crochet on the face is especially impressive, because it's so small. The holder is mostly white, but has a red border going around it.
Red and white are pretty much the classic color pairing of the Christmas period, so you can bet that it'll make your Christmas dinner look festive!
This crochet Christmas ornament is perfect for holding your napkins, just as it's perfect for holding your cutlery too. The crochet pattern is a red glove with a large snowflake image in the center.
Gloves are a staple at Christmas time, and this brilliant crochet napkin holder conjures up images of playing outside in the cold. Just don't try to throw a snowball with this!
These crochet napkin holders are said to be for Autumn, but we think they suit the vibe of Christmas time extremely well.
Don't you agree? There's something about these cozy red and orange berries that give off the chilly, festive feel of Christmas. 
These Christmas napkin rings are either orange with a red acorn, or red with an orange napkin, and these color contrasts are really visually appealing.
Better yet, each acorn has a brown top and some brown yarn swirling above it, which makes it feel even more wintery. 
This next crochet Christmas napkin holder is straightforward, being a delicate red flower with a large web of doily-like crochet (see also: How To Crochet A Flower)to go beneath the napkin.
While a flower is something for the whole year 'round, there's something about this red rose that suggests Christmas to us. As a result, this napkin ring is sure to go with your festive Christmas dinner set and decorations.
We looked at a crochet Christmas napkin ring earlier that uses a holly berry, but this one puts a holly berry design onto a cozy Christmas-themed crochet pocket.
This "sleeve" of sorts for your napkins and cutlery is bright red, with a white snow-like patch on the top, and it has a crochet holly berry on the front.
As you'd expect, you get the dark green holly leaves and some bright red berries. It's a vibrant, festive crochet delight!
This is a great one!! Snowmen are an iconic image of Christmas, and these crochet napkin holder rings have the unmistakable face of snowmen on them.
That's right, they've got little eyes, a big smile, and even an orange cone for their carrot nose! Better yet, they even have a black tophat perched on their head. 
This isn't a difficult crochet pattern to replicate, but it's got loads of style and it will really brighten up your Christmas dinner!
Another iconic image of Christmas is the Christmas stocking, where Santa leaves some of the presents. These crochet stockings are totally delightful and come in a range of different festive patterns.
They fit napkins and cutlery perfectly – though those would be strange gifts to get in your stocking! 
Finally, we've got this brilliantly fun gingerbread man design for a crochet napkin holder!
This great design is mostly brown like gingerbread, but there are some red and green buttons going up it. It looks good enough to eat – but don't!
Final Thoughts
Use our fun festive list to find beautiful crochet Christmas napkin holder patterns (see also: 10 Beautiful Crochet Rose Patterns For Crochet Inspiration)!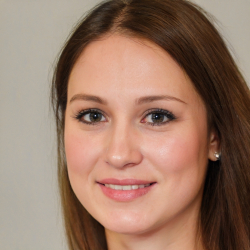 Latest posts by Nancy Adriane
(see all)