Lace Crochet is a skill that anyone interested in learning about crochet and getting some experience in with this hobby should practice for themselves.
Not only do they often look great in themselves, but they are also vital skills that will be used in much larger and more demanding projects that you come across out there.
So, needless to say, it's something that will be worth your while in the long run!
However, with so many patterns out there, it can be hard to narrow it down to just a few options. Especially when they cover such a massive variety of different items!
Have no fear though, as we are here to help cut out that pesky issue.
In this guide, you'll find a selection of Lace patterns that are perfect for honing and crafting your crochet(see also: 10 Beautiful Handbag Purse Crochet Patterns For Crochet Inspiration) skills, both as little projects, as well as places to draw inspiration from.
Plus, once you're finished, you'll have an adorable little crocheted item to add to your collection!
We're starting big with our first lace project to sink your teeth into!
Ponchos aren't just for those of us trying to stay dry in a downpour. When made from the right material, such as yarn of cotton or wool, they can also make for some of the comfiest accessories to stay nice and cozy in, and the same is true for this pattern.
The lace pattern that you'll be practicing here is a nice open and airy design that is made ideally for an extra layer in the summer (very nice on a cool summer's evening, though it can also make for a cozy indoor item that you can wear in the winter.
Alternatively, it's also the perfect beach swimsuit cover-up for when you're out of the water too.
While this is certainly a grand crochet project in scale, this one will surely help you learn the ropes (or rather yarn) of crocheting!
Similar to a good wool or cotton poncho, a crochet wrap is a perfect way of adding an extra layer to your outfit for extra style and warmth at the same time.
This wrap/shawl is the perfect thing to cover up a simple dress for those extra style points, and, of course, a fantastic project to try out your lace crochet (see also: The Top Trends You Need To Try For Your Next Crochet Project)with.
Plus, while this is certainly quite a big task to get to work on, it is a lace design that is also quite easy to pick up, once you have the pattern down.
Finish off the design with a tassel at each corner, and you'll have finished a marvelous wrap for yourself or a gift for a friend perhaps!
Of course, not every item that you create with crochet has to be a wearable item. Decorations can look just as good when made from yarn, especially with a great design to work with!
This little sun star (see also: How To Crochet A Star)design is exactly the type of decoration that we are talking about. While it can be quite an intricate design, its relatively small design means that an experienced pair of hands can potentially put it together very quickly.
Plus, it's the perfect accessory to decorate a room with, especially a young child's room that needs a little extra bright color in the room.
If you're looking for a small-scale test of your skill, try out this pattern!
Ow, if you're simply looking for a pattern to practice your crochet(see also: 10 Beautiful Crochet Feather Patterns For Those Last Strands Of Yarn) lace with, this tutorial is exactly what you need.
Making a lovely simple arc, and keeping the design and instructions clear (once you know how to read them), is the kind of practice that will help set you up for bigger and better items later on.
Moving from the great pastime practice items to another big project, sweaters can feel like a pretty monumental undertaking, especially when you're just starting.
However, big open lace crochet patterns(see also: 9 Beautiful Mesh-Bag Patterns For Crochet Inspiration) like this one are the perfect project to sink your teeth into, whether they are an intensive weekend project or something that you try out in the background.
(For our money, this sweater looks best when made with a deep luscious purple yarn!)
Well, they're not quite socks, (see also: How To Crochet Socks)but these leg warmers will certainly do their job nicely once you've made them!
When paired with darker leggings/pants and socks to go under them, a bright light or white yarn leg warmer pops out, making them the perfect winter accessory to craft for yourself.
Plus, this design comes in a range of sizes, meaning that your leg warmers will be able to fit pretty much anyone, whether they're for yourself, or a friend!
There's no excuse not to try out this pattern!
Boleros are a fashion accessory that we rarely see enough of, as well as a very stylish way to add a little extra color to an outfit (especially one with no sleeves).
This one (instructions are in both English and German is a great way for even beginners to try out a more complicated stitch pattern for themselves, especially when crafted with a deep green yarn as the example for this pattern demonstrates.
We have a different pattern here for you to practice with!
Unlike the arches that we covered earlier, these staggered fan laces have a much more closed loop to try out, which also requires a certain level of dexterity.
If you can manage this in this tutorial, however, you'll be set up to try all sorts of new and interesting lace patterns!
In a similar vein to the Staggered fan lace from before, this Tunisian Beryl Lace Square is also a great practice pattern for you to try.
Plus, once it is finished, it also looks great to hang up as a decoration too!
Final Thoughts
So, as you can see, lace patterns make up a massive amount of the stitches and patterns that you'll be learning as you take up crocheting (see also: 10 Two Piece Crochet Set Patterns).
So, master these, and they'll be nothing that you can make!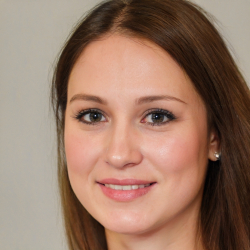 Latest posts by Nancy Adriane
(see all)