Every crocheter will buy more yarn than they need when they embark on a project. Some will save the scraps until they create a new design, but if you use multiple colors you'll soon end up with a hoarder's collection of strands.
Put your offcuts to good use by creating feathers! They are small so won't require a lot of yarn, and can easily be added to existing decorations or garments.
To make the most out of A Crazy Sheep's design, you should use autumnal-colored yarn. However, you'll notice they've used a wide range of colors in their creations.
The design is easy, as it mostly consists of single-line concepts and requires very few techniques.
Most of the feathers we will show are very clear crochet patterns. For a more realistic look, try Seolta Hooker's design.
They fray the yarn for a frizzy and ruffed feather look. Seolta Hooker believes the pattern should be leveled at beginners to intermediate because they are attaching the yarn to the vane.
However, they have produced pictures and a very detailed instruction manual which makes the process easy.
They also suggest using a double-knit yarn type, but as we're using up scraps use whatever makes the best fit.
Feathers come in all shapes and sizes. Although Seolta Hooker made a realistic texture to their pattern, Mid Knits uses actual feathers as their inspiration.
You can create feathers for the Great Horned Owl, an Atlantic Puffin, a Blue Jay, or a Raven simply by using their patterns.
Because we aim to use up scrap yarn, you might not have enough material to craft the specific bird design you want.
However, they have feathers of all sizes in their pack. For example, the Black-Capped Chickadee is only an inch or two long.
Nellas Cottage uses its feather pattern to create a dreamcatcher. Although the dream catcher itself is beautiful, the feather is created separately. This means you can craft the feather without having to build the entire design.
The concept is considered beginner to intermediate, but the instructions come with photos for the more tricky elements.
The intermediate aspect of the design is aimed at the flowers and dreamcatcher elements of the instructions. We would consider the feather part beginner friendly.
Although Jen Hayes Creations doesn't create realistic feathers, their design is so iconic that anyone could easily understand what they are looking at.
You could argue that the colors make the feathers autumnal, but even their beige and gray design reminds us of Fall.
Looking at this design, you may think it's well out of your league, however, the people at The Curio Crafts Room mark the instructions at the beginner level.
The end product will be big enough to use as coasters, but small enough to only require a small amount of yarn.
Ideally, you should follow this pattern if you have yarn in very similar shades, so you can capture the subtle gradient.
These feathers by Crochet Hooks And Magic are very similar to other designs we have suggested. However, they have one key difference. Each feather is designed with a "nick" in the structure.
These cutouts or "nicks" create a realistic touch to the cartoon-like design.
To complete this pattern, all you'll need is around 1.9 yards of yarn, however, that includes all of the feathers they suggest you create.
The smaller feathers will end up being 4.3 inches in height and 1 inch in width, while the larger feathers will be 6.7 inches in height and 1.4 inches in width.
Pick the size which best matches your current yarn availability.
The design is simple and comes with 6 pages of colored photos and step-by-step instructions. Only basic stitches are needed for the construction which is why the pattern is considered beginner friendly.
In fact, we would suggest offering this design to beginners hoping to practice their techniques.
If most of your scraps are different colors, that doesn't mean your options are limited. The feather designed by Poppy And Bliss uses a myriad of colors to create their images.
Some have block color changes, while others use strips of yarn for detailing. Depending on the amount of yarn you have left over, you can pick and choose which pattern to follow.
Our last design suggestion creates a curved feather with an eye at the tip, almost like a peacock feather.
The design is created by Potatoes And Cakes, and although their selling page is limited, we can confirm that the pattern is great.
The instructions are easy to understand, and include a lot of photos making it easier for beginners to craft.
Our one complaint about this feather is the seller's format issues. When you print out the images, they can end up cropping out important information. Play around with the PDF before starting our project.
Final Thoughts
Unless you have meters and meters worth of scrap yarn, there is no point saving it. Either recycle the offcuts or turn them into something new, like these beautiful crochet feather patterns.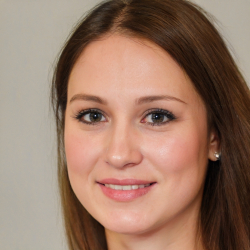 Latest posts by Nancy Adriane
(see all)