Look no further than these flowers if you want to learn a super simple and beginner-friendly crochet pattern. They're pretty, cute, and small enough to be added to almost anything.
Add them to clothing, hats, and bags, or make a garland… the opportunities are endless!
They're also straightforward to make with 8 ply yarn and a 4 mm hook. You can use any scrap yarn you have lying around, though – they're customizable!
The start of these flowers is a magic ring, which can be a little daunting. However, we're going to talk you through the steps to make sure you master it.
Let's jump right in, shall we?
What You'll Need
8-ply yarn, light worsted
4 mm crochet hook
Scissors
Yarn needle
Abbreviations
Here is a list of abbreviations we've used in the pattern that you can refer back to.
Sc: single crochet
Hdc: half double crochet
Dc: double crochet
Sl st: slip stitch
Ch: chain
Step By Step Guide On Making Your Crochet Flowers
Step 1
Make a magic ring and add 5 sc into the middle ring.
Step 2
Ch one.
Step 3
Sl st into first sc.
Step 4
In the same st, work one hdc.
Step 5
In the same st, add three dc.
Step 6
In the same st, finish with one hdc. This finishes one petal of your flower.
Step 7
Repeat steps 3 to 6 in the rest of the four stitches on your magic ring (sl st, 1 hdc, 3 dc, 1 hdc).
Step 8
Find the initial ch st you made in step 2 and sl st into it. Fasten off.
Step 9
Use your needle to weave in the loose ends of your yarn. The more you weave the yarn in, the more secure it will be! Cut off the loose end.
Step 10
Marvel at your super cute crocheted flower and enjoy making plenty more with the rest of your scrap yarn.
Using Your Crocheted Flowers
There are so many ways to use your crocheted flowers, which is good as you'll want to make plenty as soon as you master the technique. Here are some of our favorites.
Bags
Add your crocheted flowers onto a bag with hot glue. If the bag is thin enough, you could throw a few stitches to secure the flower instead. Add as many or as few flowers as you like.
We love the idea of a bag full of flowers – like your very own miniature flower wall! Or you could just use one to make a statement. Why not add the flowers all the way up the bag handle to make a vine of them?
Granny Squares
If you're making a blanket, you could crochet a granny square around the flower. However, this might leave the square with gaps. We think it would work better to create your square, then stitch the flower onto it.
Again, you could add as many or as few flowers to one square. Add them to every square or just a few in your blanket! Switch up the colors – the possibilities are endless with this one.
A floral granny square blanket would be the perfect gift for new parents. Just make sure that you properly secure the flowers onto the squares before letting a baby play with them!
Crochet Bouquet
Name a better gift than a bouquet that never dies. Create a bouquet with all of your flowers and gift it to a loved one so that they can keep it forever.
Use pipe cleaners or straws as the stems and wrap tightly with excess yarn. 
Add some brown paper around the flowers to complete the look, or even add them to a complimentary vase.
Hair Clips
Imagine how fun it would be to wear these crocheted flowers in your hair! Simply use hot glue to attach the flower to a clip. Just wait for it to completely dry before wearing it!
This is a great gift idea for kids, and you can even make them for party favors. These are bound to be fan favorites.
Wreath
Attach these flowers to a wreath (either real or crocheted) to create a timeless centerpiece in your house.
You could crochet leaves and make your own evergreen wreath, which could then have the flowers swapped out for different colors according to the time of year. 
You could also crochet different trinkets to correspond with the time of year, such as little pumpkins for fall, baubles for winter, and sunflowers for summer.
Your wreath would be the talk of the town, and you could use it forever!
Coffee Cup Sleeve
Crochet a rectangle with a chain and work in a round around this. Continue working until the rectangle is the perfect height for a coffee cup sleeve.
Now stitch the flowers onto the rectangle and seam it so that it fits your coffee cup.
This is a lovely gift to give any coffee lover in your life. You could even stitch their name onto the side of it if you'd like.
Again, we really love the idea of creating a floral wall with this concept! Add lots of flowers so that the coffee cup sleeve is no longer visible. Buy a reusable white coffee cup to keep this sleeve around and make the colors pop.
Your coffee is bound to be the coolest on Instagram with this crafty hack!
Summary
Thanks for reading our guide on how to make crochet flowers. These flowers only use two rounds and are ideal for beginners looking to make cute crochet trinkets.
You can use scrap yarn to make these flowers and any hooks that you have lying around. They're so easy to make you'll be wondering why it took you so long to learn!
We love the idea of adding these flowers to absolutely everything. What wouldn't look better with a cute little crochet flower on it? The answer is nothing!
Happy crafting!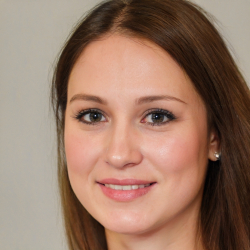 Latest posts by Nancy Adriane
(see all)