Crochet has become increasingly popular over the years, with every year having new and fun trends for people to try out. If you would like to try something new this year, but need some ideas, you're in the right place.
Below are 15 fantastic crochet trends and projects you can try out and experiment with. Difficulty levels vary, but most of these are perfect for beginners.
Now, let's jump into it.
The 15 Top Crochet Trends & Projects
1. Patchwork
Patchwork can be done in all shapes and sizes. The definition of patchwork is simply putting smaller pieces of crochet, fabric, or another material together to create something larger.
For crochet, patchwork often includes squares or hexagons made of various colors and patterns. 
As seen in the image above, you can turn patchwork into cardigans, sweaters, vests, shirts, bags, and so much more. The creativity only ends with you, and you can be as bold and vibrant as you like.
2. Semi-Circular Women's Shawl
This semi-circular women's shawl can also be created to be various sizes and colors to suit everyone's preferences.
Depending on the pattern you want to follow, the shawls can be thick and warm for winter, or lighter for spring and summer. 
Since the whole idea of this trend is for the shawl to be a half circle, there isn't a lot you can change about the shape.
However, there are plenty of great shawl designs out there if you are looking for one that offers more coverage or warmth.
3. Tapestry Crochet
Tapestries are stunning decorations that you can hang up all over your home. Some might resemble macramé more than others, but you can make them look however you like.
You could choose to do with a smaller design, like the one in the image, or make one worthy of a medieval hall! 
These tapestries can be made to have fringes or no fringes, and you can put anything you like on them. Bold colors work beautifully, but muted tapestries are equally stunning.
Go with your heart, and see what you come up with – they make fantastic gifts. 
4. Granny Square Sweaters
In crochet, a granny square is a piece of square fabric that is made by working in rounds, starting from the center of the piece. Many squares are usually made line by line horizontally, so this sets it apart!
You can use granny squares for several things in crochet, and some of the most popular patterns use this method.
However, the granny square is also great for sweaters, as you can see in the image above, as well as sweaters, vests, and more. You have full rein, and you can do whatever you like with it.  
Make longer sweaters or shorter ones. Bright or muted – the world is your oyster. Whatever you do, make sure you keep the granny style going.
5. Two Piece Outfits
Two-piece outfits are incredibly popular and stylish, so it makes sense to create some with crochet, right? Of course! You can make two-piece outfits with shorts, skirts, and anything else you feel like.
Co-ord pairs are the perfect way to bring your own style into an outfit, and you can add any kind of patterns you like. 
Depending on what you want your finished result to be like, you may want to opt for different patterns and stitches.
While we love bold choices here, don't forget – you can always try out some muted designs and colors if you aren't ready yet! Work your day up, and you will grow your confidence. 
6. Women's Dresses
The great thing about dresses is that they can come in every shape and color you could possibly imagine.
However, if you want to get your crochet hooks out and make something that you are bound to use over and over again, make a dress!
Full-length, midi, or even mini, there are options out there for everyone. The best part is, you have the freedom to experiment with all kinds of colors and patterns. As long as you are making a dress, you are in for a good time.
Test out lengths and stitches to make dresses suitable for different weather. There's nothing better than having a cozy dress to enjoy in the winter, and a light and airy one for the summer.
7. Mosaic Crochet
This is another crochet trend that doesn't have a lot of hard and fast rules for you to follow.
Like real mosaics, the whole point of mosaic crochet is to follow the more rigid designs of the pattern you want to create. There are no perfect circles and curves. Instead, you are mimicking a real tile. 
Crochet mosaics are especially wonderful because they are easy to make. The methods used for crochet simply make sense and are natural for designs like these.
You can make ornamental pieces worthy of the walls, or more usable things! Blankets (like the one pictured above), are sure to be showstoppers for visitors. 
8. Crocheted Women's Bags
Bags will never go out of style, but crocheted women's bags are coming into style. These are surprisingly easy to make and will fit any boho chic wardrobe.
Like many of these trends and projects, you can go in any direction you like with this option! While we love this bold yellow bag, there are so many options you could try out. 
Try different colors, and even opt for various patterns! Every circle could be a different color if you like, or you could even put a different design in the middle instead of that adorable flower.
You can try various handles to suit your aesthetic, too, so nothing is out of reach. Maybe you don't even want a circular bag!
9. Corsets
While you might think of corsets as something from the 17th century, they are still popular today! Sure, many of them are more for fashion purposes, but what's changed?
You can crochet your own corset however you like – whether it's a full corset like the one in the picture or smaller designs. 
Many crochet shirt designs can also be altered to have a more corset-like appearance, too. You can make them functional with the laces at the front (or back if you prefer), or not.
They can be made from intricate lacey signs or bold options. 
Make something to suit your preferences (or a friend's) and you will love these. You might be surprised by how stylish they look, especially when paired with the right shoes and accessories!
10. Granny Square Women's Bag
We have gone over the crocheted women's bag, but the granny square women's bag is something worth mentioning on its own.
These granny squares really bring out a design and draw the eye to it. They can be in any color you like, or multi-colored, like this image! 
Even the bag can be altered to suit your own preferences. You can choose bags that are square or rectangular, or you might want to play around with something else.
It's hard to argue that items with these designs are going to go out of fashion any time soon, so make as many as you like. 
The best part is, most of these designs are super easy, so you can have fun making them no matter how experienced you are.
11. Fringe
Fringe has a place in so many fashion choices, and it is absolutely stunning in crochet.
You can add fringe to dresses, shirts, trousers, shorts, tees, jackets, sweaters, and basically anything else you could imagine. Even tapestries often have fringes. 
You can make your fringes as dramatic or low-key as you like. On things like long skirts, sizable fringes that you can't help but notice always look incredible.
If you wanted to, you could individually crochet fringes to add to different pieces of clothing or other items. 
The creative license starts and ends with you, so why not throw fringes onto everything this year? We can't get enough of it, and we know you can't, either.
12. Crochet Diamond Top 
Hello, summer! We all want to feel cool and comfortable when that summer heat strikes and this beautiful crochet diamond top will do the trick.
You can alter these kinds of tops to be suitable for you in any way, including the coloring and neck. Add sleeves if you really like, too!
The important thing is to keep the iconic diamond shape in the main body of the outfit. We wouldn't blame you if you decided to make one of these in every color, and even combine colors like the image. It's classy and timeless.
13. Character Crochet
Character crochet can come in all kinds of forms. You can choose to crochet characters into blankets and throws, like the image above, or make adorable plush dolls! These character designs also work well on things like pillows.
So, if you have any characters that you simply adore (or you know someone who does), why not join in this trend and take on this project? It can be Pixar, Marvel, Disney, or anything else you could possibly think of.
14. Color Blocking
Color blocking is fun and exciting, and you can do anything you want with it. This trend is often used to pair bold and bright colors together to give you vibrant pieces perfect for summer.
You can make shorts and tees, jumpers, skirts, blankets, pillows, and anything else you like. We love the use of block coloring in the image above but feel free to tone things down if you like muted colors.
15. Bobbled Designs
Finally, bobbled clothing and designs are a great trend to jump onto. Put them on shirts and jumpers, jackets, shirts, or whatever else you feel like. They add some great texture to a piece and can add lots of definition and dimension.
Use bobbles to separate colors, or to create patterns of themselves. Whatever you choose to do, just have fun with it. If you want to be bold, use bobbles of different colors and add some extra pizzazz.
Final Thoughts
There are lots of fun and fantastic crochet trends and projects that you could take on this year, From black colors and bobbles to two-piece outfits and patchwork.
There is a place for everything, and these designs are so much fun to create. 
You can alter them, however, you like to suit your preferences, but make sure to stick to the heart of the trend!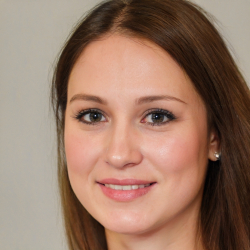 Latest posts by Nancy Adriane
(see all)