Crochet is a very relaxing and enjoyable hobby, but it can also be tricky when you're first starting out.
There's nothing quite like slippery yarn to put a beginner off the craft forever!
The problem is that there are so many different types of yarn out there that it can take a lot of work to know where to begin.
Just head to your local craft store and stare at the rows and rows of yarn for a while…
We've been crocheting for many years now and still get confused every now and then!
Throughout our trial and error, though, Lion Brand Yarn has really stood out to us. We find that it doesn't split, it's easy to get a consistent gauge with, and the colors are gorgeous.
Today we're looking into everything you need to know about Lion Brand Yarn.
Choosing The Right Fiber Type
Before you begin looking at weights or colors, you first need to decide what fiber type you're going to use.
You might be thinking that wool is wool, right? Wrong. There are so many fiber types out there to choose from, and not all are best for beginners.
Let's explore these fiber types a little more.
Acrylic Yarn
This is one of the most popular types of yarn for beginners, and the one that we personally started out with.
It's popular so it's easy to find in any craft store, affordable, and simple to work with. What could go wrong?
Acrylic yarn is also long-lasting and durable, so anything you make will be enjoyed for years to come. Acrylic yarn is also machine-washable!
Lion Brand Yarn offers plenty of great acrylic yarns, such as their Hometown Yarn, made with 94% acrylic and 6% rayon.
Use this yarn for almost any beginner-friendly project such as blankets, scarves, hats, and more. Some people like to make clothing out of acrylic as it's affordable and easy to use.
Since this type of yarn is so affordable, you'll find that many larger projects are made with it.
We wouldn't advise making clothing with acrylic wool as it tends to itch when worn for too long. It's also not very warm, so making a sweater out of it won't be very effective.
Acrylic yarn is also not heatproof and can melt, so don't use it to make pot holders (see also: How To Crochet A Pot Holder)or coasters for hot drinks.
Cotton Yarn
Cotton is thinner and slipperier than other types of yarn, but it's still worth the extra effort if you want to make something for the summer.
Cotton is much lighter than wool or acrylic, so it can be used for making summer projects, like beach coverups, towels, and tote bags.
Cotton is also great for pot holders, dishcloths, and rugs. Many baby clothes and toys are made with cotton as it is the most gentle yarn on the skin.
Lion Brand Yarn offers a lovely buttery cotton yarn called 24/7 Cotton, made with 100% mercerized cotton.
The disadvantages of cotton yarn are that it is much thinner than other yarns, meaning that your projects will take longer to make. It is also more expensive, so cotton crafts tend to be smaller.
Wool Yarn
Wool yarn is another great option for beginners since it's durable and won't break easily.
In our experience, this is the best thing for beginners as they tend to do a lot of frogging! Frogging is the act of ripping stitches out to repeat the row. (rip it, rip it - ribbet, ribbet… get it?).
Wool is excellent for making heavy winter garments like mittens, scarves, and hats. You can also use it to make sweaters that aren't itchy.
Lion Brand Yarn offers a range of lovely acrylic-wool blends, such as Wool-Ease. It's soft, thick, and durable.
So Many Yarn Weights
Lion Brand Yarn balls weigh different amounts. This doesn't mean the physical weight though, which will tell you how many balls you need for a specific craft.
The yarn weight refers to how thick it is, on a scale of 1 to 7. 1 is the lightest weight, and 7 is the heaviest. Here's a breakdown of the weight scale:
Beginners can attempt to use any weight of yarn, but we think that the easiest is a 4, or Medium yarn. This is otherwise known as worsted-weight yarn.
Thinner yarns might be difficult to pick up without you having the hook movements mastered, and your projects will take longer to finish.
There's nothing like the satisfaction you get after finishing your first crochet craft, so you don't want to wait too long!
On the other hand, too bulky yarns are difficult to work with and aren't the best for frogging. So, a number 4 yarn is the best to get beginners comfortable with yarn work.
How To Choose Between The Different Ways To Buy Yarn
Now, we don't really mind how we buy our yarn - yarn is yarn at the end of the day!
But we know that the different ways yarn is sold can be daunting to some beginners, and it might even be enough to put them off altogether.
Here are the most common ways yarn is sold and a little more about them.
Skeins Of Yarn
This is the most popular way of selling yarn, and you'll often find that your craft store shelves are packed with skeins.
Skeins is an oblong shape of wrapped yarn with a label around its middle. The yarn is wrapped with a machine and doesn't often offer any help when using them.
A select few skeins will be created so that you can pull the tail end from the middle, but this is a rarity to find.
The majority of skeins just have a ball of knotted yarn in the center, which can be really annoying to use and untangle. The best option is to use the yarn from the outside of the skein first.
Lion Brand does offer an interesting method of pulling yarn from the center of the skein, though, which you can read about here.
Yarn Cakes
A cake is often made with a yarn winding machine and looks like a small round cake. It will have a flat top and bottom and the yarn can be pulled from the inside without an issue.
Yarn cakes aren't so popular but they are convenient, so we often advise beginners to look for their yarn in this form.
The center pull allows your yarn to remain neat and tidy, and you'll have to deal with fewer knots.
Yarn cakes are also very easy to stack, so if you're a serial yarn collector (like most crotchet lovers) you'll have an easier time storing them.
If you have yarn leftover from a project, making yarn cakes is a popular method of saving it for later.
Balls Of Yarn
Balls of yarn is the traditional method of selling yarn. If you think of yarn, you might think of a spherical mound of it wrapped together.
Balls of yarn are quite inconvenient as there is no way to start a center pull. You'll need to use it from the outside.
For this reason, balls of yarn aren't typically sold. However, it is a popular way for crocheters to store their yarn (see also: How To Hold Yarn When Crocheting)after finishing a project.
Unlike making yarn cakes, you don't need a winder to make a ball.
Hanks Of Yarn
Hanks of yarn are long loops of yarn twisted. They're very pretty and are often how luxurious hand-dyed yarns are sold. While hanks look lovely, they're inconvenient.
You cannot crochet anything directly from a hank of yarn, and you'll need to rewind it either into a ball or cake before using it. We recommend a cake so that you can use a center pull!
Choosing The Best Yarn For You
Now that we've taught you everything you need to know about yarn, let's take a look at some of our favorites from Lion Brand.
We've found that Lion Brand is one of the best yarn brands out there for beginners, with high quality yarn for impressively low prices.
It doesn't split, it's rough enough to keep a good hold on yet soft on skin, and there's plenty of choice for you to pick from.
Here are the yarns we've tried and loved.
[amazon fields="B000WUVJN0″ value="thumb"]
[amazon fields="B00D0KVJOI" value="thumb"]
[amazon fields="B01MYAH44E" value="thumb"]
[amazon fields="B000WUVJN0″ value="thumb" image_size="large"]
First up is Lion Brand's Pound of Love, which is an acrylic yarn and therefore excellent for newbies.
It's durable yet soft, so can be used for a number of garments without being itchy. It's also resistant to frogging (and therefore a beginner's best friend!).
The value for money is excellent - you'll have a lot of yarn to work with for an impressively low price.
There are also plenty of lovely colors to choose from, making this an excellent all-in-one yarn that you'll be using for years to come.
Don't worry, it's not gate kept for just beginners, either!
[amazon fields="B00D0KVJOI" value="thumb" image_size="large"]
Next up is another acrylic yarn, but the color swatches have the power to change the blends.
Some of the colors have some added rayon to the mix, but they're all still primarily acrylic.
The rayon doesn't take away from the excellence that is this yarn, and it's labeled 'premium' for a reason!
You can make absolutely anything from this yarn and have fun doing it!
We would recommend paying attention to the dye lot numbers for this yarn, though, as it can be rather temperamental with its variety.
[amazon fields="B01MYAH44E" value="thumb" image_size="large"]
We couldn't have a list of our favorite yarns without including our favorite Wool-Ease!
This is a simply divine yarn that helps you to create amazing looking pieces, even with minimal practice.
This yarn is super thick and soft, and the ideal wool blend for beginners to try.
Wool yarns might be a little fiddly for newbies, so blending it with acrylic like Wool-Ease is a breath of fresh air.
[amazon fields="B017T977IM" value="thumb" image_size="large"]
A cotton yarn is more fiddly to work with than other fibers, so you need to make sure you're using a good one when just starting out.
Enter 24/7! This is an amazing cotton yarn, and we might even go as far as to say it's our favorite.
There are plenty of gorgeous colors to choose from and it offers a shiny finish that lots of cotton yarns are lacking.
But don't worry, this doesn't make it slippery - surprisingly enough.
We use this yarn for all our loose crochet projects, such as produce bags, beach coverups, and summer tops.
We also love using it for home decor and useful items like dish rags and towels.
[amazon fields="B00KKV0EJG" value="thumb" image_size="large"]
This final yarn is a pleasure to work with for beginners and advanced crocheters (see also: How To Skip Stitches For Crochet Beginners!)alike.
It's another acrylic yarn with a medium weight, making it the perfect first yarn.
The colors are absolutely gorgeous with different hues blending into one another.
This is a great yarn for anyone wanting to create something that looks more advanced than it actually is.
Imagine a hat or scarf made of these blended colors! We might have just found our newest crochet project!
This yarn also comes in cake form, which we all know is the best way to buy yarn. Use it from the middle and save yourself plenty of time without the tangles!
Yarn Buyers Guide

Now that we've let you into our favorite Lion Brand yarns, here's a few things you should consider before stocking up.
Here are a few more things that we think are important to beginner crocheters when it comes (see also: How Come You Cannot Crochet With A Machine)to yarn.
Crochet Hook Size
It's important to note that the size of your crochet hook needs to correspond with your yarn.
The label on the yarn will tell you the recommended hook size for the easiest crafting experience, so we would stick to this while you're still learning the basics.
Once you've tried the recommended hook size out, you can experiment with going up or down a size.
Remember that the larger the hook, the looser your crochet will be. The smaller the hook, the tighter it will be.
Smaller hooks are more difficult for beginners to use, so we'd suggest using a medium size hook with acrylic or wool yarn.
Texture
There are plenty of textured yarns to marvel over at the craft store, and they look lovely.
However, novelty yarns are the worst a beginner could start with. It can be difficult to know where the stitches are, how tight to pull to keep a consistent gauge, and more.
We're not saying you should stay away from textured yarn forever! That would be cruel.
We just recommend that you get to grips with crochet by using normal acrylic, wool, and cotton yarns before diving in the deep end with a novelty yarn.
Color
So you're going to want to choose a yarn that corresponds with what you want to make.
However, if the color doesn't matter too much (such as for a scarf, hat, or blanket), we suggest choosing a light color rather than dark.
The reason for this is because learning how to crochet with dark yarn is very difficult.
You'll have a difficult time counting and finding the stitches, and that can affect the time it takes to finish your project.
We recommend that you opt for a white, light gray, or pastel colored yarn. Once you've mastered the craft, you can move onto darker colors like blues, blacks, and reds.
And Dye Lot Number
The dye lot number is a record of what dyeing process the yarn went through. The manufacturers will assign a number to each batch dyed at the same time, so you can keep track of the exact same colors.
This is a great feature for when you're completing larger projects and want to make sure that your yarn is going to be the exact same color.
With yarns dyed at different times, there is a risk that they might be slightly different in hue, which can affect your final project.
So, make sure you use yarn from the same dye lot numbers for best results.
Price
Beginner crocheters should be cautious that they'll likely have to deal with plenty of mistakes in their projects, which will need to come undone.
Frogging stitches can impact the health of the yarn, and might even waste a lot of it.
So, the price of your yarn should be as low as possible if you want to avoid wasting money. This is the reason why acrylic yarn is so popular, as its price tag is nice and low.
Wool yarn is durable yet more expensive than acrylic, so there is still a chance that you'll waste some.
We recommend that you start off with some cheap yarn and work your way up to the pretty, luxury yarn.
Summary
Thanks for reading our guide to Lion Brand Yarn! We hope this has given you some inspiration to start making your own crocheted crafts with this beginner-friendly yarn brand.
Starting off on the right foot with the correct yarn can be the make or break of a crochet project. Using the wrong yarn makes the task tricker, which might put you off for good.
We recommend using a medium-weighted yarn with the recommended crochet hook, and giving yourself plenty of time to practice the craft.
It can take a while to master, but with the right yarn, you'll have fun doing it!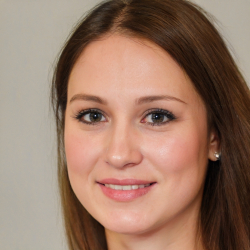 Latest posts by Nancy Adriane
(see all)