If there's one stitch EVERY beginner needs to learn, it's the half-double crochet stitch. This stitch is deceivingly easy to pull off, and once you've mastered the basics, you can tweak your technique to create some simply stunning patterns.
In this post, we'll be walking you through the basics of half-double crochet, and teaching you all the tips and tricks you need to know to take your HDC to the next level. 
What Is The Half Double Crochet Stitch? 
The Half Double Crochet Stitch (often abbreviated to HDC), is a beautiful, beginner-friendly crochet stitch, and it's arguably one of the most versatile out there. If you're just getting to grips with crochet, we'd HIGHLY recommend starting this stitch!
If you've already tackled single and double crochet (successfully), then this is an excellent step up for you. 
The Half Double Crochet Stitch (HDC) has more height than single crochet, but it's shorter than double crochet. One of the main differences of the HDC is that it creates a third loop with less height.
What Is The Half Double Crochet Stitch Used For?
The HDC is often considered the middle ground between single and double crochet. It's often used for creating shawls, hats, garments, and much more.
You'll also see it in many patterns used to make blankets, baby blankets, and pillows. Once you've mastered this stitch, you'll be able to use it in a variety of projects. 
How To Half Double Crochet Stitch (Beginner Friendly) 
The Half Double Crochet Stitch is pretty easy to master, and we're here to show you how… Hooks and yarn at the ready, it's time for our step-by-step guide on the HDC!
Create a split knot and chain of any number to start your chain row, and create your foundation chain.
Once you've created your chain, yarn over and push your hook through the 2nd chain from the hook
Now, yarn over again and pull your yarn back through the 2nd chain. There will now be three loops left on your hook.
Yarn over once more, and pull it through all three of the loops on your hook
Repeat this process from step 2 to 5, working on the next chain rather than the second, and you will have completed your first row!
When you've reached the end of the row, you'll have to chain one, and then start the next row. Continue this process until you've completed the desired number of stitches, or finished the pattern.
Once you've completed row one of your pattern, you will ALWAYS work through both of the top loops in the stitch. These should resemble a V shape.
Increase And Decrease In Half Double Crochet 
Now you know the basic technique of the Half Double Crochet stitch, you can begin working on increasing and decreasing. You'll need to learn to increase and decrease any patterns that require a little shaping.
Thankfully, learning how to increase and decrease in HDC is easy. Here's how you do it: 
Increase With HDC 
To increase with the HDC, simply make an extra HDC in the same place as your existing HDC stitch. Your crochet pattern will tell you exactly how and where to do this. If you need to increase at the end of a row, put two HDC stitches in your final stitch.
Decrease With HDC 
Although decreasing with the HDC is a little different, it's still easy. Here's how to decrease with the HDC:
Yarn over and push your hook through the stitch
Yarn over and pull through
Yarn over and insert your hook into the next stitch. There will be five loops on the hook
Yarn over and pull through all of the five loops 
How To Work In Different Loops 
If you work into just one of the loops instead of both of them, you can drastically alter the appearance of a basic stitch. When worked into just the rear loop of a ribbed design, HDC gives a great look, but if you prefer, you can also just work it into the front loop.
Have you ever wondered why HDC has a third loop? It's not exactly commonplace for most beginner stitches, but it's due to the way it's constructed.
To ensure you're crocheting correctly with the front and back loops, you'll need to understand their anatomy.
When you do, you'll also realize that you can work into just the third loop only – this is a fantastic technique that works well with any knit fabric. The half-double crochet stitch really is one of the most versatile out there, and we love using it! 
Back, Front, And Middle HDC 
By simply changing which loop you use to create a stitch, you can create some stunning effects with the half-double crochet. Let's take a quick look at the different effects you can create with back, front, and middle HDC.
Back Loop HDC
Instead of working through the front and back loops (like you would with a regular HDC), simply push your hook through the back loop only. When you do this, you'll be able to create a stunning crocheted fabric that looks more like a deeply ingrained rib effect!
Front Loop HDC
You can also work with just the front loops. By making your HDC with just the front loops, you'll end up creating something that looks a little more like a Tunisian crochet stitch than an ingrained rib.
It'll have an entirely different texture, but it still looks great on most garments. 
Middle Loop HDC
If you want to work with just the middle loop instead, create one row of HDC stitches just in the back row, then turn and make the next row exclusively middle loops.
If you repeat this process for several loops, you'll end up producing a crocheted (see also: How To Weave Ends In Crochet)fabric that looks very similar to knitting. 
Final Thoughts
The half-double crochet is a simple and versatile stitch that even beginner crocheters can tackle! Once you've learned the art of the standard HDC, you can start experimenting with using different loops.
You'll end up creating an abundance of effects that looks great on all sorts of patterns and fabrics!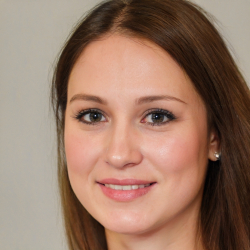 Latest posts by Nancy Adriane
(see all)