Crochet can make a truly amazing number of different clothing items, from hats to socks, to baby's clothes in general. However, one of the most popular items that are usually made with crocheting is scarves.
And why not? They're relatively simple items that can be made, making them great for beginners to get to grips with the practice.
Plus, with the number of unique styles, patterns, and colors that you can incorporate into a crochet scarf, they also have a very high ceiling for creativity.
It's probably why people will often come back to these items, whether they are novices or seasoned veterans. And probably why there are so many different patterns out there to draw inspiration from!
So, if you're thinking of trying something a little different to help your crochet scarf stand out from all the others, whether it's fall, winter, spring, or even summer, here are some of the best patterns that you can try out for yourself!
Starting us off with a simple, yet classy design, we have this pattern for you to take a look at this amazing scarf design that you're sure to love.
While many of the other patterns here make their scarf patterns stand out by using all sorts of color and shape combinations, this one takes a somewhat novel approach by making the scarf into a braided design, making it appear almost like braided hair, or even a tasty braided loaf of bread!
This design adds a lot more texture to a scarf pattern, making it instantly stand out from the other incredible designs that we will cover. It's simple, yet effective, and the perfect way to sharpen your crocheting skills!
Moving on from one incredible scarf design to another, this crochet pattern takes a very similar approach to add a little variety to the classic crochet patterns for scarves, while putting its spin on things.
This one doesn't just have plenty of cozy and gorgeous texture with its half double crochet stitches, but also manages to include pockets in the ends of the scarf design too! How cool is that?
This makes the scarf almost appear like a lovely winter sweater, until you get a closer look at it, especially with that warm and cozy shade of brown yarn that this pattern recommends using!
Handy, and comfortable. What more could you want from a scarf?
Moving onto the more colorful designed crochet scarf patterns, this next pattern is the perfect scarf to get some practice in with!
This colorful design certainly stands out from the softer, cozier colors we've covered, being a combination of bright pastilles and dark, vibrant shades of green and cyan. It's a strong color, but one that gives it its character.
Plus, it is a pattern that is super easy to learn for yourself, making it great for beginners to learn the ropes (or yarn), or just something to make idly while watching TV.
Landing somewhere between a classic scarf and a shawl, you'll find that the differences often blur between these wearables layers of clothing, especially when it comes to the world of crochet (see also: How Come You Cannot Crochet With A Machine)!
This particular design is a lovely vibrant blue, and has a lovely wide, closely knitted pattern that makes it great for both styling over your shoulder in summer, or bundled up and warm during winter!
This is for the cat lover in your life, whether that's yourself or a loved one, or for that one friend that is chronically online. Then again, is there that much of a difference between the two?
The soft gray color is the perfect color to go with your beautiful gray (r blue, if that's more your style) cat's pristine fur coat.
Will this fool your kitten into thinking that you are one of them? Well, you'll just have to make it yourself and find out!
If you're looking for the perfect soft scarf to have on you during those long, breezy outdoor walks that you love.
A simple design that blends deep purple with warm fall-colored reds, this is a pattern that is perfect for pretty much any season, both in color, as well as weather-wise!
Alternatively, if you're looking for an alternate color, we find that mustard yellow is a great solid color to make this crochet pattern with!
Many scarf patterns that you can make with crochet are often ideal for the colder fall or winter times of the year, partly because of the tight crochet pattern designs that are often used for these items.
However, scarves that have a more open pattern are also easy to find online and are often the perfect accessory to have for the warmer months in spring and summer, thanks to them allowing plenty of airflow through the item.
This pattern is the perfect example of this kind of scarf. The crochet pattern allows for a very open look, while also allowing for an amazing color gradient design to be seen across it.
This is a great crochet pattern to test yourself with, that's for sure!
Going back to the more closely knit (pun intended) patterns, this cold-seasonal scarf isn't just warm and sure to keep you cozy on the coldest days, but also has plenty of style to it!
The geometric patterns across the scarf make it immediately stand out, and are sure to attract plenty of envious eyes!
If you're looking for a design that is just as striking, while also going for a more old-fashioned look, you can't go wrong with this pattern for your next crochet scarf project!
Striped with dark colors, this is the perfect design that can be baggy in summer, and tightly wrapped and warm in winter.
Final Thoughts
So, as you can see, variety is certainly not an issue when it comes to picking your pattern of choice with crochet scarves.
Which one of these patterns will you make first?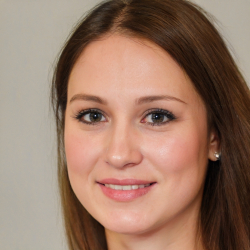 Latest posts by Nancy Adriane
(see all)