Adding a doily to a table or countertop can make it a focal point. They are a great thing to have to stop plates or other objects from marking the table. If you are an avid crocheter, then you may have considered creating your own doily.
One of the most beautiful types of doilies you can make is a pansy doily. 
As the name suggests, a pansy doily is a delicate doily that consists of this flower. These flowers are usually quite vibrant and beautiful to look at. As a result, we have collected the 10 most beautiful pansy doily crochet patterns that we think you need to be aware of.
What Is A Doily?
A doily is a very small mat that is used for ornamental purposes. Typically, it is created with lace and placed on tables under plates or other objects.
A doily crochet pattern can range in difficulty, thus depending on the design anyone from a beginner to someone far more experienced can make a doily. 
Below, we have collected 10 pansy doily crochet patterns, that we think you need to have a go at yourself.
Maggie Crochet has created this stunning pattern for any intermediate skill level to follow. You have the option of three doily sizes to choose from, but you will need a size 20 crochet cotton in 5 different colors and a 1.3 mm crochet hook.
A star is created in the center of the doily, which extends out to the rim, where you will add your various pansies in different colors.
Capture the beauty of pansies with this multicolored pattern. This pattern is more suited for intermediate skill levels, due to the precise and intricate doily center.
You will then create various colored pansies that will create a vibrant rim on the doily. Resulting in a doily with a  diameter of 14 inches overall. 
Usually, doilies are circular, but this one is slightly different by being a square with pretty yellow and purple pansy flowers around the edge. The center of this doily has a basketweave appearance, which is really easy to replicate.
Anyone is able to replicate this pattern, and you could use any color yarn you like. In the end, you should have a doily that is around 13 by 13 inches.
This pattern consists of a band of pansies around the center of the doily. The center of the doily is quite a delicate design, but it isn't too difficult to complete. Overall, this finished doily should be around 31 cm in diameter, and you can use any colors that you like.
The instructions are split into the motif center, the pansy center, and the edge. There are also images to help you along the way, to make this pattern easy to understand.
This lovely pattern can be used to make doilies or a set of placemats. A dark green lace center is finished off with purple pansy with a dark ending.
This pattern comes in three distinct sizes. The largest one is 12 inches in diameter, the next one is 9 inches in diameter and the 3rd one is 6 inches in diameter. Crochet hooks #10 and #13 are required for this pattern, along with crochet cotton #70.
If you wish to create something really vibrant, then you will love this rainbow pizza pansy doily pattern. This pattern consists of 6 pansy triangles which are then joined together to form a circle.
As a result, even beginners should give this pattern a go, although you do require a lot of yarn due to the vast amount of colors needed. 
A large flower pattern is created in the center of the doily, and colorful pansies are attached on the outside.
The pattern itself is more suited for intermediate crocheters, but it is a great project for anyone to take on. Every step required is provided, but for beginners, it may look confusing since there are a lot of abbreviations used in the instructions.
With a no.7 crochet hook and 3 balls of different colored yarn, you can create a 9 by 12-inch doily which features a double pansy center. This is a simple pattern to follow, with clear instructions, which is ideal for beginners.
A lot of the patterns we have mentioned create quite small doilies. Yet if you are looking for something a bit bigger to cover a dining room table then this pattern may be more suitable. Due to being much bigger, there are a lot more details to be aware of.
The doily itself will take 29 rows to compete, but each row is slightly different. Then each pansy takes 6 rows to complete. This is a great project for those more experienced to take on.
This pattern comes with straightforward row-by-row instructions for you to follow. It helps you to create a spiral pattern center and multicolored pansies and leaf borders.
In this pattern, there are three sizes of dollies for you to create, to make a matching set. You will need a 1.5 mm hook and size 10 cartoon yarn in white, green, and your chosen flower colors.
Conclusion
Pansy doilies look elegant and beautiful. These crochet patterns can look quite intricate, yet they aren't as difficult as they may first seem. We have provided you with 10 beautiful pansy doily crochet patterns that we hope you will try yourself!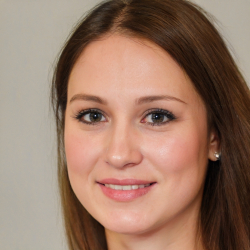 Latest posts by Nancy Adriane
(see all)