Crocheting a summer scarf is a great project, especially if you are still new to this kind of craft.
There are many different types of beautiful hipster scarf patterns that you will be spoilt for choice when it comes to warming up on an unseasonably chilly summer evening.
In this article, you will find 10 of the best hipster crochet scarf patterns that are great for summer.
This contemporary triangle scarf wrap is the perfect addition to summer. The hipster style of the geometric shapes that come together to make the final product means it looks way more complicated to crochet than it actually is.
It consists of putting together a couple of squares and a triangle – which you may spot if you look hard enough.
You will find that you do not need to weave a lot with this pattern. Instead, you will need to have at least the basic knowledge when it comes to crocheting.
This stunning lace and flower scarf is slightly more complicated than the one above. However, it makes the ideal summer scarf with its use of light-colored wool and lace pattern.
The pattern of this scarf has been created in order for you to be able to adjust the size easily. However, you may want to keep it on the longer side as the ruffles on each end are meant to be at hip level.
For example, a 7 foot long scarf is perfectly normal for this kind of crochet pattern. So, keep this in mind when choosing the yarn. We recommended at least 425 yards which is one skein worth.
If you have scraps of wool that you have no idea what to do with, then this summer scarf crochet pattern is the one for you. All the yarn you will need is around 50g of some 4ply, making this pattern a doddle to do.
It is a simple scarf to do as well, as you will only be using a three-rowed pattern which you will then keep on repeating. The final count is 138 rows.
Other than basic knowledge of crocheting, you will not need to have any other special skills to get this project finished.
If you have one skein to hand, then this beautiful Chloe scarf is a must. The end result is a checked square pattern that will keep you warm on cooler summer nights.
You will want to have at least 215 yards worth of a worsted weight yarn to complete this scarf.
If you want a wider scarf, then use multiples to add more 'squares' on the side of the scarf. You also have the option to make it longer too – just add some extra rows at the end. However, for these two options, you will need more yarn available.
For those who want to make an extra light scarf, then this beginner-friendly crochet pattern is a must. It creates a lightweight scarf that is perfect for a summer's evening.
You will want to work very openly and loosely to create the desired effect. One way of doing this is by using a 3.5mm crochet hook, however, you can opt to go with a 3mm.
You also will want to use a lace-weight type of yarn too, though a fingering-weight is also an option. It just needs to be light and airy, after all, it is a summer scarf!
Because you will only be using basic crochet stitches, this is a great pattern for those who have never made a scarf before.
You will need to understand increasing and decreasing in order to make this beautiful hipster triangle scarf. However, all you need to know is the chain stitch and the treble crochet stitch to complete it.
You will notice that the triangles start to resemble a chevron pattern. At some point, your yarn will run out while you are increasing. You can then decrease it with a new ball of yarn.
Don't forget to add those tassels too! It completes the scarf.
The most beginner-friendly on this list is the easy lace scarf. It measures 2.5 inches wide and 94 inches long, meaning all you will need is one skein of yarn to make it.
A good tip is to go for a lightweight baby yarn that is super soft on the skin. Just remember to weave those ends using a needle. Also, a 4.5mm crochet hook is the best way to get the right size that you need.
If you are looking for a scarf that is challenging to create and looks like an art piece, then this crochet fan lace scarf pattern is for you.
The scarf itself is long at around 7 feet, but you will be working with 45 different motifs to make it. However, it actually only uses around 400 meters of yarn. This is because it is quite dainty and layers up to create fullness.
While another fan scarf, this one is a little different!
This feather and fan-based crochet summer scarf is perfect for those who want a beginner-friendly project. This scarf consists of working with different yarns to create a color block scarf.
You will be working back and forth to create the pattern of the scarf. Just remember to weave the ends to ensure a wonderful finish.
While this scarf is suitable for the confident beginner, it may not be the one to try if you lack basic crocheting knowledge. This is because it requires you to use bobble stitches, chains, half-double crochet stitches, and a foundation half-double crochet.
This scarf is warmer than some of the rest, but it is still lightweight and airy enough to wear during the summer months.
You will need to find a yarn that allows the scarf to drape, otherwise, you may find it feels 'stiff'. This means making sure it is lightweight. What you will end up with is a beautiful hipster triangle scarf.
Final Thoughts
Hopefully, you have been inspired to create a beautiful hipster crochet scarf to warm up on a cooler summer night. As you can see, there are many different scarf patterns that will accommodate your crocheting skill level.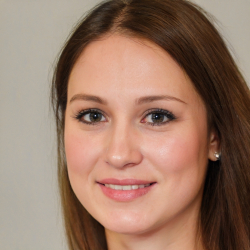 Latest posts by Nancy Adriane
(see all)