Crocheting small shapes is one of the most satisfying things you can do with yarn, and the possibilities are endless. One of our favorite shapes to make is the star. Crochet stars are super cute, easy, and can be added to almost anything.
We strung a load of stars, of all sizes, to make a garland for the holidays. But who says stars are just a December decoration? We'll be keeping our wall hanging up all year.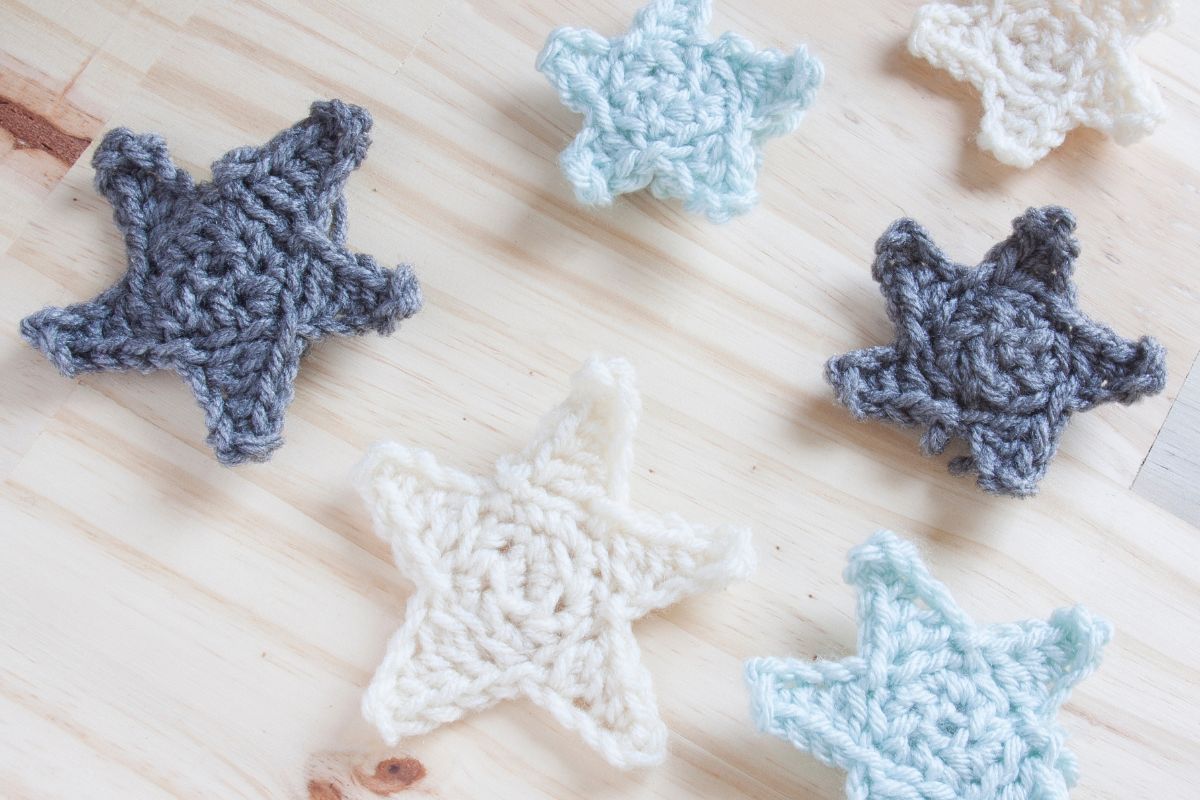 Let's jump right into a free pattern of how to crochet your own stars.
Simple Crochet Stars Pattern
This pattern is simple to follow and great for beginners. It uses single, double, and treble crochet stitches, but these are simple to master once you learn how to single crochet.
One stitch that you might not have heard of before is the picot stitch, this is used to crochet stars.
The picot stitch is completed by making 2 chain stitches from the last stitch made, then single crocheting into the same stitch.
This makes the pointy end of a star – otherwise, your shape would look like a flower!
Abbreviations
Here is a list of abbreviations that we use in the pattern, in case you need a refresher on what they mean.
Sl st: slip stitch
Ch: chain
Sc: single crochet
Dc: double crochet
Trc: treble crochet
What You'll Need
Star Crochet Pattern: Option One
Start your crochet star by making a magic ring to work in.
Step 1
Ch 1, 20 sc in magic ring. Tighten to close the gap, and join with sl st to first sc.
Step 2
Ch 1, sc in the same st, *2 dc, trc, ch 2, sc in the top of trc (picot stitch) 2 dc* in next st, sc in next st.
Step 3 to 6
Repeat round 2 between * and * four more times. Join to the first st with sl st.
Weave in the ends and marvel at your amazing crochet star!
Star Crochet Pattern: Option Two
Start your design with a magic ring.
Step 1
Ch 2 (count this as 1 dc), 9 dc in the magic ring. Tighten to close and join together with an sl st into the top of ch 2.
Step 2
Ch 1, sc in the same stitch, *2 dc, trc, ch 2, sc in top of trc (picot stitch), 2 dc* in next st, sc in next st.
Step 3 to 6
Repeat round 2 between * and * four more times. Join the first st with sl st.
That's your crocheted star done!
Tiny Stars Crochet Pattern
We love this pattern as it makes these cute small stars that you can use with the larger ones to create a starry night effect.
How many stars are too many? The limit does not exist in our book!
To make these stars, you'll need all of the same equipment as the other patterns we've looked at.
Start with a magic ring.
Step 1
Into your magic ring, ch 1, *sc dc, ch 2, dc*.
Step 2 to 7
Repeat the steps between * and * five more times.
Step 8
Sl st into first st of the round. Close the magic ring with the tail end and weave in any loose threads with the tapestry needle. 
What Can You Do With Crocheted Stars?
Okay, so you've got excited and made a million crochet stars that you have no idea what to do with. Don't worry, we've been in the same boat. Here are some ideas you could take inspiration from that we love.
Give Them As Favors
Are you sending holiday cards out soon, or perhaps invites to a party? Add a star to the envelope before sending so that your friends and family can enjoy an extra gift with your mail.
You could also put the stars in gift boxes as confetti, party bags, or use them as name tags for gifts.
Coasters
If your stars are large enough, why not turn them into coasters? Just make sure that you dry them if they get wet to avoid ruining them. You can also gift these coasters in packs of four, so your friends can have a cohesive set!
Garland
We mentioned it earlier, but we love our star garland so much! Make stars of all different colors and sizes and thread them onto a length of ribbon.
The picot stitch will make a convenient eyelet hole at the points of the stars, so you don't have to bother with threading the ribbon through with a needle. 
The best thing about this garland is that you can continue making crochet stars and simply swapping them out for the old ones whenever you want a change!
Baby Mobile
Hanging these stars from a mobile would be a wonderful gift for any new parent. Just make sure that the stars are attached securely with no way of falling off. If you could find a mobile with hooks, this would be the most secure way of making it.
Fill the mobile with small and large stars, of all different colors and sizes. Once the baby grows out of needing a mobile, they could use the stars as a way of learning colors.
Summary
Thank you for reading our guide on how to crochet stars! This craft is so quick and easy that you'll be able to make an entire starry night in just a few hours!
We've detailed three different methods of crocheting stars, all of which create a slightly different looking trinket. Now you need to try them all and tell us your favorite.
There are so many things you could do with your crochet stars, and this is a great way of using up any scrap yarn that you don't want to throw out. Happy stitching!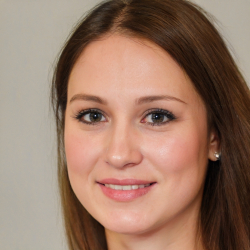 Latest posts by Nancy Adriane
(see all)