A pearl choker necklace pattern isn't a specific pattern or design. It's simply a crochet necklace that fits tightly around your neck and contains at least one pearl.
The necklace shouldn't be so tight that it actually hurts or even chokes you, instead it should fit snugly enough to hold itself in place.
Our 10 designs below each take this concept in a different direction. Use the patterns as an inspirational platform to create your own vision, or download the PDF patterns by clicking the link.
Scarlet Rabbit has truly captured the essence of a choker necklace. The dark red and black material touch on the spooky genre, while the Victorian pattern keeps the necklace elegant. It gives Morticia Adams or Lady Briarwood vibes – perfect for witch-core aestheticists.
The gem used in the choker isn't a pear, but swapping stones won't affect the tone or crafting instructions of the necklace.
If you don't appreciate the darker vibes of a traditional choker, you can still enjoy the necklace. This simple choker by Tibbins Crocheting is delicate and subtle, for a cottage core aesthetic.
To incorporate the pearl, you'll need to blend instructions from one of our other suggestions, as this one doesn't include it. The process won't be difficult if you already have an intermediate skills level.
Use your creativity to see which pattern matches your vision for this jewelry.
This choker follows in the same footsteps as Scarlet Rabbit, but the lack of red removes the horror aesthetic. Now, we are left with a more sophisticated and less costumey creation.
Little John's Yarn includes a video tutorial in their Victorian style pattern. The instructions are simple, even for a beginner, and include methods for two sizes of yarn.
Our next pattern describes itself as a "boho" style, but the turquoise color and shell-shaped pattern screams mermaid.
It's a beautiful and intricate design, creating multiple areas of interest without seeming cluttered. The gemstone in the middle can easily be replaced with a pearl or any other gem.
The method is simple, but we would recommend crocheters of advanced beginner or higher skill level take on the pattern.
If you were hoping for something more elegant, then try Ambassador Crochet's choker and bracelet set.
It would be perfect for a homecoming dance, sweet 16 parties, or any event where you want to show off while still looking classy.
The instructions are designed with beginner crocheters in mind. If you aren't aware of the basic terms, you will understand them easily through the methods and images.
The wrist sizes are from 6 to 9 inches in circumference, while the neck is 11 to 15 inches. With all of the chokers we suggest to you, make sure you confirm the sizes. If you are comfortable extending your pattern without help, then use that skill on smaller collections.
Again, this pattern doesn't include a pearl intertwined, but you can copy a pattern from one of our other suggestions to make the perfect creation for your vision.
Katerina Dimitrova has created a beautiful and dainty choker that seems fit for a princess. It uses crystal beads and a crystal rhinestone chain which creates a royal pop, however, you can replace the beads with small pearls for the same effect.
The instructions are designed in a step-by-step formation, making it easy to follow, and you'll also receive photos and diagrams for the complex areas of the craft.
Katerina Dimitrova rates the pattern as intermediate, but a lot of their customers say that it's super easy to replicate. It's a fantastic pattern that can be made in any color, but we suggest styling pastels or whites for the princess look.
Janeva Designs uses a brooch as the centerpiece of this choker. To make a good replica using this pattern, we suggest picking a pearl that also has a metal backplate design. This will make attaching the gem easier.
The instructions are simple, but you will need some experience before taking on this necklace, so we put it as "advanced beginner" in terms of skill level.
Vi Tasja has described their pattern as a wedding style, and it would certainly look fantastic on someone's special day.
We are labeling it as a 70s fashion design because the loops are so indicative of that era.
Because the loops are so detailed and delicate, the total design is considered intermediate. However, it does come with diagrams, photos alongside the step-by-step process, and a video tutorial.
A lot of these chokers are dainty and thin, so to make sure all bases are covered, we want to include a wide choker too. This design by Outstanding Crochet uses turquoise beads around a seaweed-colored yarn for a natural and almost nautical effect.
You can swap out the beads for pearls and use a lighter or pastel-colored yarn for a lighter creation.
This design is considered intermediate, due to the stitches the instructions assume you already know.
Our last choker design is based around large pearls. They sit firmly in the middle of a wave or flower pattern for an elegant and sophisticated Victorian design.
It is a slightly complex pattern, so only those with intermediate skills or higher should take on the challenge. This is because, like Outstanding Crochet, Janeva Designs assumes you know the stitching terms.
Final Thoughts
Very few people use pearls in their jewelry anymore, which is why a couple of our patterns don't hold gems or pearls in the pattern. However, you can mix and match these designs and use them as inspiration.
Try a couple of patterns until you can create the perfect pearl choker necklace.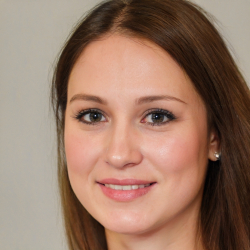 Latest posts by Nancy Adriane
(see all)