Placemats are the best project for new crocheters. They are normally rectangular, which is easy to craft, and as long as you use a repeatable pattern, the design will look sophisticated while remaining simple.
To help you along the way, we have 10 patterns that follow this concept.
This design by Pulcino Handmade LV was created specifically for beginners. You can see from the image that the concept contains repeated patterns, while still looking sophisticated.
When you download the pattern, you'll also be given a video to help you through the process. You'll need a 3mm cotton card and a hook measuring nr 6, USA J or UK 4.
Some people find circular patterns easier to complete than rectangular ones, which is why we've included Macrame Sp Patterns' design.
Again there are no thrills to the pattern, and the only additional touch is the rim around the placemat.
The rim is the hardest part to complete, however, the pattern is still considered beginner friendly.
Like our last suggestion, this pattern also comes with a video however that video is without sound.
You'll need around 65 meters of 4mm braided cord and a crochet hook size of 5.5mm.
If the border seems confusing, you can always create your placemat without one. The cotton cords of this design help create a sturdy finish all while using common stitches to create that whirlwind texture.
The design is easy, the download includes video instructions and in the end, you'll have a 13.5-inch wide placemat.
This is probably the easiest pattern that we will show.
So far the pattern types have been somewhat similar. However, if you prefer a more textured design, try the basketweave technique.
Crochet Spot Patterns use easy instructions to help you recreate this pattern, however, the stitches are rather small and narrow.
This means the basketweave design will look tight, but you'll need to concentrate on the placement of each stitch. This doesn't make it particularly hard but does require more concentration than some of our other suggestions. 
This leaf design is a little more complex than the others we have suggested so far. That's because we are creating an asymmetrical shape that begins with a circle.
Due to the intricate nature of the pattern, it is technically labeled as intermediate, however, there are so many details in the instructions that beginners can complete the placemat too.
There are two Youtube videos to follow (currently hidden unless you have the link) and a step-by-step instruction manual.
You'll need 5mm cotton yarn along with a 7mm crochet hook (this translates to USA K or UK 2).
Created by My Alpaca Studio, this rectangle placemat contains a basic middle pattern and two border designs for a more detailed finish.
The patterns are easy in concept, but My Aplaca Studio warns that beginner knowledge of basic stitch names will be needed.
If you don't know these already, a quick youtube search can help you bridge the knowledge gap. Just pop on a clip when you reach a term you don't know.
Ideally, you should use braided cotton cords around 3mm in size. Your crochet hook should be 6mm or a US J.
This round placemat has around 6 pattern changes. To a new crocheter, this amount of pattern changes can seem daunting, but the design itself is very simple.
As long as you can double crochet, half double crochet, single crochet, and work in a round pattern format, then you can take on this challenge.
Ideally, you should use different colors for each pattern swap, as this will accentuate the changes while automatically adding a new level to your placemat.
One of the simplest designs you can create is a rectangular placemat with tassels on the ends. Jo To The World Creations uses worsted weight yarn of around size 4 to crochet their design.
Their instructions include how to make the percentage, how to make the tassels, and how to add those embellishments to the placemat.
The pattern is simple, and you'll end up with an 18-inch wide and 12-inch long mat without including the tassel measurements.
This flower pattern may seem complex, but as long as you know your basic stitches, the creation of this design is easy. You'll end up with a 15.5-inch wide placemat around 5 pattern shifts.
You'll need a tapestry needle for some of the delicate aspects, but a 3.75 mm crochet hook is required for most parts.
Our last pattern looks difficult, but again the detailed instructions and pictures make it easy for any level to complete. You'll end up with a 14-inch wide placemat and a 4-inch wide coaster should you make the corresponding arts.
Turquoise Pattern uses a deep red for a romantic aesthetic, but any color will work well with this concept.
Final Thoughts
Creating a placemat is a fantastic idea for new crocheters. They are simple by nature but with a few extra tweaks, they can go from plain to bold or sophisticated to dramatic.
Pick your favorite design and download the corresponding pattern to create an easy crochet placemat.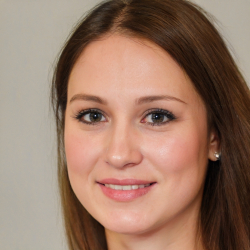 Latest posts by Nancy Adriane
(see all)