Crochet is a handy little hobby, isn't it? It feels like you can pretty much make anything with the right crochet needle and a ball of yarn.
Whether it's making hats, sweaters, socks, gloves, or even toys, there seems to be no end to the potential that you can create with crochet, so long as you have the right needle, and a little imagination (or failing that, a good pattern).
However, many people are often surprised to hear that you can even create home furnishing with crochet, from blankets to pillows and all sorts.
In this guide, we're going to be showing you how to make something a little different from those, however.
With a ball of cotton yarn at your side, we'll show you how you can make your placemat with a pattern that is easy to follow, as well as show you some alternatives that you can try out for yourself!
Why Placemat Patterns Are Great For Crochet
There's plenty of good reason that you should be making placemats for your table yourself, without instantly going to the store to buy some new ones.
For one, who doesn't love good homemade furnishing? There's just something so satisfying about making your items and tools for your home, and this is a great example of that self-sufficient lifestyle being demonstrated if only a little.
Of course, a good placemat should also be able to do its job of, you know, making sure that your bowl or plate doesn't scratch your pristine table underneath. Well, one of the great things about using cotton yarn to crochet (see also: How Much Yarn Do I Need To Crochet)yourself a set is that it is very soft and acts like a very effective cushion, protecting both the bowl and the table from scratching and damaging each other.
Plus, with this being a nice flat item that you can work on, this placemat is a great item to practice regular stitching too, so it's a great exercise for beginners to get to grips with the basics of crochet.
How To Make A Crochet Placemat
With all of that preamble done, we can now move on to the main event of this guide, with this simple tutorial to follow!
What You'll Need
Of course, you're going to need a few items first to make this placement for yourself:
Yarn – Unsurprisingly. For this pattern, we would recommend using some Lion's Brand Cotton Yarn (see also: A Guide To The Best Lion Brand Yarn For Crochet Beginners)for the best results (this is a very reliable provider). Although you can pick any color that you want, you'll probably want to start with Ecru and Charcoal colored yarns for your first attempt.
Crochet Needle – The needle size should be around 5 mm, or H-8 if you are looking for official sizes in the US
And that's it. No extras are required to make this pattern!
Beginning
To start, you'll want to create a magic circle crochet pattern first. This will form the center of your crochet placemat and the point around which the rest of the pattern will revolve around.
If you're unsure how to create a crochet magic circle, (see also: How To Start Crochet With A Magic Circle)take a look at the tutorial that we have linked.
Row 1
With the magic circle now created, you can now start to make a chain of stitches around the center point.
This chain should be made of around 8 half double crochet stitches (HDC), but you'll just need to keep going until you come back to the start of the chain on the other side.
Row 2
With the first row finished, you can now move on to the second row.
Create another 2 HDC, then make another 2 HDC for every single stitch going around the row, which should to around 16 stitches (ST) in total.
(if you have one, place a stitch marker in the first half double crochet (see also: How To Do A Half-Double Crochet)stitch.
Repeat this step until you complete this row.
Row 3
For this row, create another 2 HDCs to mark the third row (place a stitch marker here if you have one), and continue as you did in the previous layer, this time following this pattern:
1 HDC in the next stitch.
2 HDC in the next stitch.
The 2 HDC in the next 7 STs (which should equate to around 24 stitches in total).
By now, you should be starting to see the pattern developing.
Row 4
Once again, make 1 HDCs for the fourth row (placing a stitch marker here), and start wrapping around the precious row following this pattern:
1 HDC for the next 2 stitches.
2 HDC in the next stitch.
Place a second marker here if you can.
Create another 1 HDC for the next ST 7 times (totaling 32 stitches).
Rows 5 To 19
From this point on, you will be repeating many of the same steps that we covered in the previous section, only larger in scale for each new row.
Keep in mind that each row from 5 to 19 will increase in HDC by around 8 times, just for the sense of scale.
Repeat this until you get to around 16 inches in diameter.
Placemat Border
Once you are starting to approach the correct size, you can now add the charcoal-colored border.
To do this, simply hold 2 strands together, single-crochet stitch (SI ST) them to each stitch, and begin to wrap around the placemat, finishing off with a slip stitch (SL ST) once you get back to the beginning.
Final Thoughts
So, what are you waiting for? Grab your crochet needle and get started!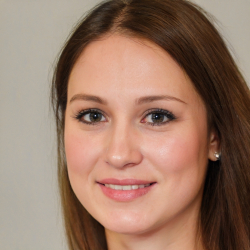 Latest posts by Nancy Adriane
(see all)